Bryan Whitefield is the type of speaker that engages his audience by the way he makes them think.  He draws on his over 25 years of interactions with executives and boards and their internal strategic advisors to deliver presentations that challenge the status quo between these groups.
Bryan's mantra is that strategic leaders do the "hard-smart work" their competitors can't or won't do.  Doing the hard-smart work makes them a cut above the competition and is what makes Bryan stand out from your traditional speakers on leadership.
See Bryan in action, launching his book, DECIDE: How to Manage the Risk in Your Decision Making.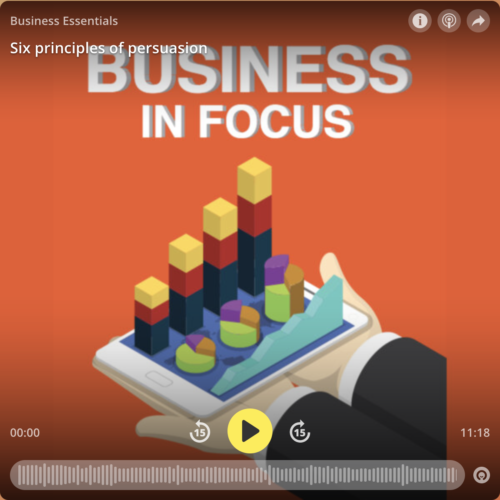 A podcast interview on the 6 principles of persuasion held on 1st July 2021.
"If you are looking to grow, you need to hit the pavement and talk to current and potential clients. And now might be the time to work on your powers of persuasion. Strategy expert, Bryan Whitefield, offers his six principles of persuasion and other strategies to construct an effective client conversation."
Bryan's Keynote Presentations
North by North-West – Setting and driving direction through Strategic Leadership
In this presentation Bryan asks strategic leaders to question how they and their colleagues set the direction of their organisation and how they adjust and readjust as necessary.  He asks leaders if they have done the "hard-smart work" and if they have sought the right advice.  He asks the strategic advisors from finance, HR, risk and audit if they have been frank and fearless with their advice.  He also asks if the advice is valuable!
Therein lies the greatest productivity improvement opportunity for executive teams: The giving and receiving of valuable advice.  The average piece of advice takes 15 minutes to deliver and takes 8 hours of one person or a team's time to prepare.  Given the hourly rate of your average executive and the hourly rate of your average staff member, that 15 minutes simply cannot be wasted!
Agile Leadership – Making uncertainty your best friend
Uncertainty is THE certainty in life.  Whether it is macro uncertainties such as digitisation, climate change, geo-politics and the decade of disruption or the uncertainty of impact of something clearly coming to your doorstep, such as driverless cars, you know sitting still will result in you being caught like a deer in the headlights. Stunned and unable to move until it is way too late.
In this presentation Bryan challenges executives on whether they and their organisations are sufficiently agile.  He asks "Do you have in place all the sensory receptors necessary to ensure you are not caught like a deer in the headlights? Do you have the wheels of change constantly in motion? Do you have what it takes to succeed in our bold new world?"
Increase Appetite – Take Advantage of the Big Opportunities
Risk appetite refers to our appetite for different kinds of business, not different kinds of risk.  It is about knowing which opportunities suit your organisational purpose and which you have capability to pursue.
When an opportunity is huge and capability is strong we should pursue it hungrily.  It requires creative leaders forming talented teams and delivering an urgent focus for each team member so that all are executing their roles with relentless execution.
In this presentation, Bryan unpacks his experience of over 25 years working with Boards and Executives to determine their appetite for business and setting direction for their organisation accordingly.
Some of Bryan's Previous Keynotes and other Presentations
Akolade: The Australian Cyber Fraud & Risk Summit 2018, Sydney
RMIA National Conference 2017, "Risk It!"
Sword Active Risk, ARM Global Conference 2017
Digital Workplace Conference: Australia 2017, Sydney
Leadership Think Tank 2017, "Winning Conversations"
TMF Risk Management Regional Seminar 2017, Newcastle
Institute of Chartered Accountants Business Forum 2015, "Measuring KPIs and organisational capability to enhance decision making" Perth, Sydney, Melbourne, Adelaide & Brisbane.
Institute of Chartered Accountants Business Forum 2014, "Performance Measurement – how to build leading performance indicators Perth, Sydney, Melbourne & Brisbane.
Institute of Chartered Accountants Business Forum 2013, "Demystifying Risk: It's all about performance" Perth, Adelaide, Sydney and Melbourne.
GRC 2012, "The role of the risk professional in leading the G in GRC"
Australian Risk and Compliance Summit 2012, "Measuring Risk Management Performance"
RMIA National Conference 2011, "Measuring Risk Management Performance"
RMIA Masterclass Workshop 2011, "Applying ISO 31000 to Climate Change and the Carbon Tax"
Public Sector Risk Management Association Conference 2011, "The Future of Risk Management"
Tonkin 2010 – "Liabilities, Indemnities, Warranties and Insurance"
IAG Internal Risk Advisor's Conference 2010, "Influencing Skills for Risk Professionals"
RMIA National Conference 2010 – "Influencing Skills for Risk Professionals"
Associations Forum National Conference 2010, "Audit and Risk Committees"
RMIA ACT Chapter Conference 2010, "Influencing Skills for Risk Professionals"
CPA Conference 2009, "Approaches to Managing Uncertainty in Business Forecasting"
United Independent Pools Conference 2009, "The LAPP Fund – The Story of a Local Government Mutual"
Chartered Accountants 2008, "The Risk Revolution"
Business Continuity Summit 2007, "Integrating ERM and BCP"
ESAA OHS Conference 2005, "Integrating Risk Management – An Holistic Approach"
CSA Public Sector Governance Forum 2004, "Structuring Effective Risk Management Strategies"
Interested? Please contact us to discuss availability and fees.
---
Testimonials
"Bryan's dynamic, vibrant style ensured all our people were well engaged which produced excellent results."
David Moore, A/g Group Manager, Business Effectiveness, Austrade Canberra
"Very useful in terms of hearing different industry experiences on Project Risk."
Darren Chang, Director, Anitime Consulting
"It was good, with plenty of interactive segments. I have picked up a few tools to use in the future."
Rod Berwick, Construction Superintendent, Arrow Energy
"I did enjoy your presentation at the EA conference; in particular I like your practical, no-nonsense approach to resolving issues."
Anne Mackenzie, Managing Consultant, ELT Works
"Good practical concepts."
Peter Maggiora, Project Manager, Genband
"Bryan was a wonderful presenter. He was clear with his delivery and the content of the presentation was very informational. I also liked the way he made the presentation interactive by getting us to discuss certain question amongst the delegates."
How to Build Lead Performance Indicators, ICAA Business Forum, Brisbane 2014 Attendee
"Thank you Bryan for the insights you shared with our Senior Executives group. They and I were impressed by the practical and lively nature of your session. Your great stories evidenced the need for more story telling in influencing and winning conversations. Providing take home actions and methods makes it possible to keep improving at just being successful which is the best outcome any presentation can achieve, and this session did that. Great presentation Bryan."
Jorge Fernandez MAICD, LTT Chair
"I am currently doing my MBA and have taken a course on organisational communication. I learned more from Bryan in an hour on how to actually apply this to real life situations, than I learned from the whole course!"
Jacqui Nolan-Neylan, Co-founder, Revvies Energy Strips
"Bryan received good to excellent feedback from our attendees in terms of content delivered, presentation skills and overall satisfaction. They also felt it was an interesting topic, that it was a very useful introduction to risk management and they took away some good practical tips. The Institute of Chartered Accountants Australia is unable to deliver quality training events to our members without the support of experts like Bryan and we greatly appreciate his involvement and are looking forward to engaging him again next year."
Lisa Lim, Learning & Business Solutions, National Manager – Reporting and Audit Training, The Institute of Chartered Accountants in Australia