MasterClass with Bryan: How to Run an Impactful Risk Workshop
Risk Workshop facilitation is one of my most favourite things to do in risk as I help people think deeply and differently about their challenges and help them find creative solutions.
In this MasterClass I will be exploring the four biggest problems between a mediocre and an outstanding facilitated risk workshop. I will help you develop a different perspective on your intent as a facilitator and share with you four key skills you'll need to become an effective risk workshop facilitator.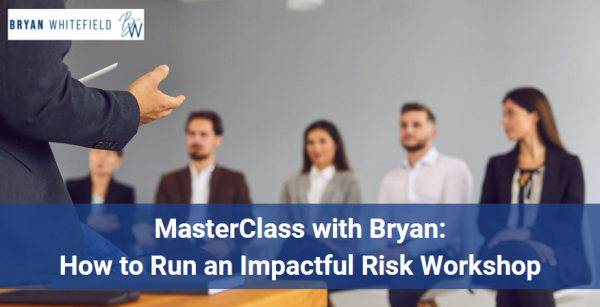 So, bring a cuppa and join me and others if you want to delight your audience and become more valued, more trusted, and more invited to provide your advice before decisions are made.
This is for you if:
You want to build your reputation as a gun facilitator
You want to see eyes widened and the penny drop for those you serve
You simply want your workshops to be impactful
If this sounds like you please register below:
Bryan's MasterClass on Mastering Risk Workshop Facilitation
Friday, 5th May 2023, 12:30pm – 1:30pm AEST
Online via Zoom