Board/Executive Risk Workshops
Deepening a shared understanding of Enterprise Risk Management (ERM)
Risk workshops deliver insights to decision making for management and board, enhancing leadership, and strengthening delivery of strategy. My board/executive risk workshops ensure you have the conversations that need to be had.
A great board/executive risk workshop
A great risk workshop means:
Unidentified challenges found, discussed and articulated.
Innovative solutions explored to current and new challenges.
Decisions are made that will achieve 80% or more of targets 20% sooner due to less backtracking.
The reluctance of some senior leaders to formally assess risk is to be expected if they don't see the benefit when they "manage risk every day". After a board or executive risk workshop facilitated by me, the most common thing you will hear is: "That was not what I was expecting! We've never had a conversation like that before."
I don't come with a check list, with pre-conceived ideas, with bias. I come with a well-rehearsed formula designed to help senior leaders think things through like they have not before.
Leaders who know there are no certainties in life and value new insights into old, new and emerging challenges, love my workshops.
The truth of the matter is that a well-facilitated risk workshop is a wonderful use of a senior leader's time. Risk is not a compliance function. Done well, risk workshops provide valuable insight and can help lead the organisation in new and brave directions. Faster, with increasingly agile decision making.
It's like putting on a pair of prescription glasses for the first time, you see everything so much more clearly.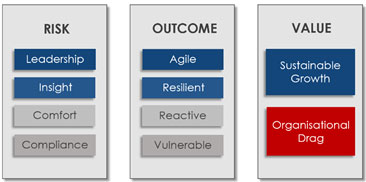 More of my insights on this workshop
WHAT MY CLIENTS SAY
Bryan facilitated a workshop for our executive team in order to make Risk Management an integral, business as usual activity, as opposed to a standalone activity which is only considered at certain times. Bryan was able to portray Risk, and Risk Management in a number of different ways, which sparked a number of interesting discussions, and resulted in us identifying a number of initiatives which will assist in the our goal of integrating Risk Management into day to day business activities.

We developed a strong long-term relationship with Bryan as he helped us to accelerate our approach to managing risk. He did an excellent job helping us navigate through various options with our board and senior leadership team to develop and operationalise our risk appetite and to establish a community of practice to embed risk-based decision making.

G&S engaged Bryan to facilitate a broad Business Risk session with our Executive Team. Through the addition of Bryan's extensive Risk Management knowledge and his well tuned facilitation skills our team reviewed and updated our corporate business risk system tools and completed a review of our business risks, current treatment plans and prioritised our residual risk areas. I wouldn't hesitate to utilise Bryan's services again or to recommend his consultancy to other organisations.

BWC helped us review our thinking on risk management, bringing a more strategic approach to the way we view our risks and opportunities. Bryan's style and pragmatic approach ensures board, management and staff feel confident with understanding the complexities of supervising and managing risk.