Risk Framework Reviews
Driving your desired behaviours
Risk frameworks drive the behaviours of staff. My risk framework reviews identify if your framework is driving your desired behaviours and if it is causing any undesired behaviours.
A great risk framework
A great risk framework is one that is as simple as it is practicable and:
Integrates risk into business-as-usual.
Shows risk to be an enabler of success.
Is read and understood in 15 minutes by 99% of leaders.
I help you trim your risk frameworks while meeting external stakeholder expectations so that requirements are easily understood and adopted by leaders with minimal engagement from the risk function.
I ensure risk is positioned as a partner to the business, to help leaders be successful.
If you want a risk framework that leaders adopt willingly and help drive the desired behaviours in your organisation, I am here to help.
The creators of frameworks are often referred to as architects, as in a framework architect. Interestingly, you can view a risk framework similarly to how you view architecture. Complex buildings are often seen as ugly. A building that is complex looking and stands alone in the sky often brings much criticism. The Crown Casino, Barangaroo in Sydney, the Pixel Building in Melbourne or my personal favourite the Orbit Tower in London. Whereas a simple, straightforward building, standing alone, often fails to catch the eye but at the same time if it is integrated into the urban landscape it can be a beautiful thing. Well suited to its environment and easy on the eye.
A well designed risk framework is like the stand alone building that is beautifully integrated into the urban landscape. It does the job and is hardly noticed because it turns risk management into simply "The way we do things around here."
Consider the behaviours of staff in relation to your framework. Now, which quadrant of the diagram below would they assign to.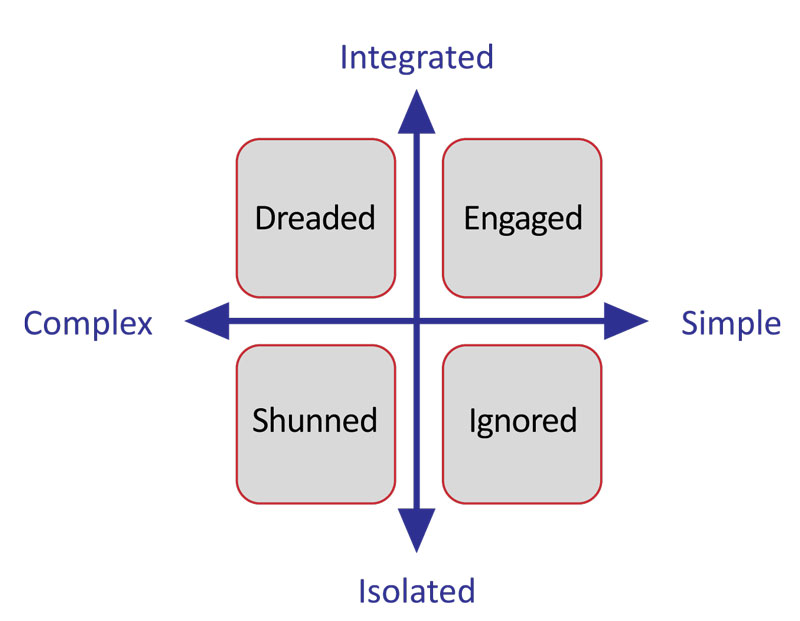 More of my insights on risk framework reviews
WHAT MY CLIENTS SAY
First Title engaged Bryan Whitefield Consulting to assist in reviewing its Risk Management Framework. This review entailed the important task of facilitation of Risk Management workshops with each division; identification of Risk Champions in each division; the identification and assessment of risk and the development of the risk culture within the organisation. We found BWC's experience and exposure to various risk environments to be of great assistance in achieving our objectives in our review.

Playgroup Victoria was very pleased to have worked with Bryan on a recent risk consultancy to review our risk management approach. Bryan has a wonderful style which makes risk management accessible for managers who may not always appreciate its importance. Our senior management team were extremely impressed with Bryan's skill and approach to consulting with us on our risk profile. They particularly appreciated the simplicity of the corporate risk profile and framework Bryan works with. This makes embedding a risk culture mush easier when staff and managers are able to easily embrace an accessible framework.  Accessibility does not mean that Bryan's framework and templates are not thorough and comprehensive. Bryan assisted us to get down to the basics and ensure our systems were identifying and managing risk as core business. It was a delight working with him.

Bryan quickly assessed our needs in terms of a short and sharp high level review of our current risk program in the context of the stage of development of our organisation. His recommendations are practical and will be implemented.