The average piece of business advice to an executive takes about 8 hours of your and your team's time to prepare and 15 minutes to deliver.
Those 15 minutes simply cannot be wasted.
Winning Conversations In-House and Public Programs
---
One of the most common complaints Bryan hears from internal advisors of all kinds (admin, finance, HR, IT, risk, compliance, procurement and audit as examples) is that it is often difficult to get some business leaders to listen to them and even harder to get them to act on their advice. He hears things like:
"Sometimes I feel like I am there just to keep them out of trouble with the boss, they don't really see me as a key advisor."
"It is because what I do is not sexy like sales or marketing (private sector)/like the Minister's favourite program (public sector)."
"If I was the CEO they would sit up and listen!"
While all of these comments are examples of the challenges internal advisors need to overcome to cut through with their advice, they are not the cause. There is more going on.
For starters, most advisors have to be corporate cop from time to time.  They have to say to the business that certain policies, frameworks and processes have to be followed.  Worse still, sometimes advisors have to report a problem when the business has not done the right thing.
It then makes it very hard to turn around the next day and say to a business leader, "I am your trusted advisor on this and you should heed my advice."
The imperative for an internal advisor is to solve problems for your internal clients.  The way to do that is to stand in their shoes, understand their problems and deliver solutions.
Consider the trust scale in the diagram below.  Are you seen as a controller, like a financial controller, or an expert?  If so you are not having the impact you could, you are not making the difference you know you can make.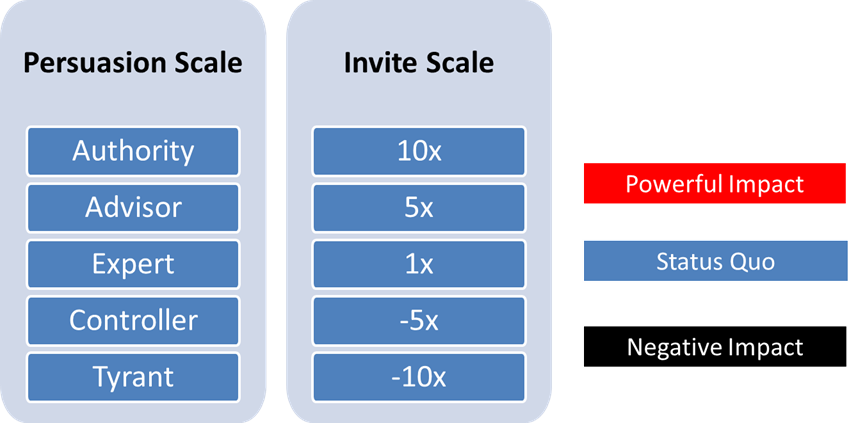 Bryan's Winning Conversations: How to Engage Program will give you all you need to make the difference you know you can make, to get invited to provide your advice 5 or 10 times more than you are now so you can create the change that is needed.  While it covers so many of the traditional elements of a trusted advisor program such as listening and influencing skills it has so much more.
Here is what you will learn in the program:
How best to stand in the shoes of your internal client.
How to paint them a picture to clarify and engage.
How to use stories to connect and inspire.
How best to ensure you have so much credibility, they cannot help but follow your advice.
Underlying each of these is the MCI Decision Model that is the subject of Bryan's book DECIDE How to Manage the Risk in Your Decision Making. The model is the key that will help you to unlock the door to the decision-making processes of those you are advising so you can deliver the right message at the right time to get the right decision.
Winning Conversations: How to Engage Program
Duration: One-day + Two Wisdom Webinars + Phone and Email Support for One Month
Understanding the Challenge
1. Perceptions of internal advisors
2. Achieving Persuasive Advisor status
The MCI Decision Model
1. Why decision making can be improved
2. MCI - Motivation - Clarification - Implementation
Stand – Paint – Tell – Make
1. How to stand in your internal client's shoes
2. How to paint them a picture
3. How to tell them a story
4. How to make them believe
Action Plan
• Developing your toolbox
• Planning your journey
• Making yourself accountable
Wisdom Webinars
During the wisdom webinars you will share your successes with your cohort, share each other's failures and make adjustments to your approach. There are so many variations of an internal advisor's challenge, sharing these experiences helps you to build up your toolbox of engagement tools and stories.
Why I developed the Winning Conversations Program
I know that all advisors and those they advise face the same problem – giving and receiving valuable advice, succinctly and with clarity.  Read more here.
Click below to...
Download a brochure about the Winning Conversations: How to Engage Program
Download a paper about Winning Conversations
E-mail Bryan to discuss a 1 or 2-day in-house program.
---
Testimonials
Paul Broadfoot
Disruption Strategist
Patricia McMillan
IT Consultant and Speaker














"Engaging teacher who actively demonstrates the values of images and stories as a way to leave lasting lessons."
Richard York, Principal Economist, ACCC
"You will feel more accomplished by the end of the session."
Brittany Cheyne, Assistant Service Manager, Aon Risk Solutions
"I thoroughly enjoyed the session. Great content, thought-provoking ideas delivered with workable simplicity."
Delene Kemp, Assistant Service Manager, Aon Risk Solutions
"Excellent storyteller, engaging, simple but very effective session. Believe nothing but try everything."
Jibu Mammen, Service Manager, Aon Risk Solutions
"Bryan has helped us design training courses that are well researched and practical. He has also delivered training for us and his dynamic, vibrant style ensured our staff were well engaged which produced excellent results."
David Moore, A/g Group Manager, Business Effectiveness Austrade Canberra
"Bryan provides many great business engagement examples and suggestions."
David McCallum, Senior Risk Manager, Australia Post
"Great course, look forward to using the contents in my work."
Alon Symons, Manager Assurance, Australia Post
"Great presentation--like the video clips."
Michael Rosslind, Senior Manager, Australia Post
"A very useful workshop – very practical and something I will seek to put into practice."
Peter Rourke, Department of Innovation, Industry, Science and Research
"Bryan creates a safe and entertaining learning environment where you also learn from your fellow participants. Will definitely use his tools and techniques."
Kathryn Ng, Senior Adviser - Risk and Resilience, Department of Justice and Regulation
"Bryan is a very personable and sincere trainer who uses an informal and inclusive style. The decision model is a firm basis for further work."
Persuasive Advisor Program Participant, Department of Social Services, Australian Government
"Bryan was knowledgeable on our business and well prepared, so that content and delivery were specific to our organisation."
Brendan Ellis, Account Engineer, FM Global
"Content was very good and looking forward to using some of the concepts in my job."
Damien, FM Global
"Bryan Whitefield facilitated a one-day workshop for FM Global on Becoming a Trusted Advisor for our BDMs, Account Managers and Senior Engineers. His knowledge of FM Global was excellent and he challenged our staff to think outside the box and explore different perspectives of our key messages for our customers. Bryan's open and honest approach and articulate presentation made the workshop engaging and our participants will use many of their new skills and knowledge as they build their roles at FM."
Russell Carson, Vice President; Manager Business Development Asia-Pacific Operations, FM Global
"Bryan Whitefield's Persuasive Advisor Program gave me an excellent framework to improve my influencing skills. Putting your learning into practice is the real test for any program and I implemented Bryan's framework successfully for one of the key decisions at my organisation within the first month. The outcome was way more valuable than cost of the program. I refer to the framework provided by Bryan, to his "pearls of wisdom" and to his book DECIDE quarterly."
Ripal Shah, Heritage Bank Australia
"By having the workshop structured around NGA, Bryan had all the participants more engaged. Utilizing current programs in general discussions demonstrated the need to be more proactive. Bryan asked all the hard questions."
Darrel Lord, National Gallery of Australia
"Bryan clearly has extensive knowledge and experience and this enabled the content of the workshop to be delivered with confidence providing detailed examples to support learning objectives. An excellent training workshop, highly recommended to others."
Dean Marshall, Head of Facilities Management, National Gallery of Australia
"Bryan offers insightful proven advice on how we can be more influential to help people make great decisions. This workshop was simply an excellent investment of time."
Paul Broadfoot, Disruption Strategist
"I had the pleasure of attending Bryan Whitefield's Winning Conversation Workshop delivered for Leadership Think Tank recently.   Bryan's style of facilitation was totally engaging and thought provoking.   The models shared by Bryan at the workshop has really assisted my preparation for meetings and my confidence has grown as a result.   A very valuable, worthwhile workshop.  Thank you so much!"
Cath Shaw, Founder, Positive Living Skills
"Exceeded expectations and will be incorporated and supported."
Mark Stranglo, NSW Engineering Manager, SAGE Automation
"The winning conversations workshop really assisted in helping me prepare for some difficult conversations I had been putting off. I now have a framework I can use to help tackle any conversation comfortably and for me, that is worth its weight in gold."
Jacqui Nolan-Neylen, Co-founder, Revvies Energy Strips
"The content was excellent for our purpose and the facilitator was extremely knowledgeable and engaging."
Fiona Connell, Central Risk Analyst, GLNG Operations, Santos
"Excellent structure to the course. Has generated new ideas to be developed further."
Paul Clarkson, Risk Manager, GLNG Operations, Santos
"Clear articulation of the subject. Adapted well to the GLNG/Santos perspectives."
Rory Rogers, Manager Risk and Audit, Santos
"Bryan's presentation was clearly articulated & delivered. Learnt some interesting concepts given that I came in thinking that I already was a trusted business partner."
Geoff Sturt, Credit Specialist, Suncorp
"Course presented range of new techniques that we were able to practice, and will now look to implement."
Paul Watson, Senior Risk Advisor, Suncorp
"I enjoyed collaborating on selling current challenges to stakeholders with other risk professionals."
Chris Taylor, Risk & Compliance Manager, Suncorp
"Really enjoyed and found useful the activities that will be able to deploy going forward."
Adrian Durrheim, Senior Risk Advisor, Suncorp