We all have blind spots. Get the additional edge required to achieve your goals.
It's difficult to know the right path to take given the uncertainty of the world in which we operate. Irrespective, we need to move fast and control costs at the same time.
Sometimes as a senior executive you feel the weight of responsibility and you are not sure you have all the answers. You may also see doubt in the eyes of your team.
It is right to be considered, we all have blind spots. In fact, because of our blind spots the average person has a 15% error rate on complicated decisions. Each significant error costing you, on average, a day of your working life to rectify.
The opportunity I give you is to help you think with crystal clarity which will energise you and drive your team on to greater achievements than you thought possible.
If you have seen the movie Limitless with Bradley Cooper starring as Eddie Morra you will know what I am talking about!
If you haven't, watch this trailer: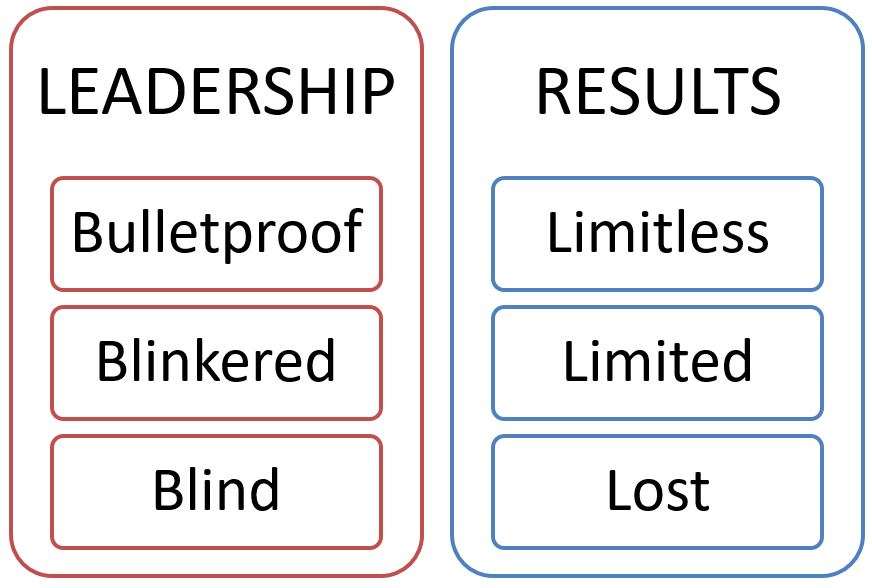 If you like my way of thinking, get in touch with me now so we can find a time in your busy diary to work out if we will work well together.
Ph: +612 9400 9702                         Email: info@bryanwhitefield.com

---
Testimonials
"Bryan gets it. He is considered and comprehensive."
Paul White, Australia Post
"Our organisation has worked with Bryan in the last few months, and our experience has been extremely productive. He has articulated best practice processes and policies to our key staff. As a mentor, Bryan has been most helpful in simplifying processes, and has provided us with valuable insight from his experience within the industry. He has provided tips and tools to guide us through our journey."
Joseph Yap, Accreditation Manager, GP Synergy Limited
"... Bryan's mentoring capabilities have enabled us to progress large projects effectively, after only a few short and sharp sessions - clarifying scope, roles, deliverables and efficient strategies for getting the job done."
David Moore, A/g Group Manager Business Effectiveness (Austrade Canberra)
"Bryan assisted AWI in embedding its risk and fraud management policies by facilitating strategic plan implementation workshops with a cross section of the business. The process Bryan instigated ensured that these plans will evolve with the business rather than becoming static documents. The professional and friendly service provided by Bryan ensured that this task was completed with the minimum of fuss."
Tracy Marshall, General Manager Finance & IT, Australian Wool Innovation Limited
"I have thoroughly enjoyed Bryan's one-on-one coaching program. He has the knack for making things simple and sensible. He has a great balance between ensuring effective risk management and making this easy for the non-risk personnel to understand, grasp and run with."
Aaron Mitchell, Administrative Services Manager, Risk Manager, CBM Australia
"Bryan helped us review our thinking on risk management. bringing a more strategic approach to the way we view our risks and opportunities. Bryan's style and pragmatic approach ensures board, management and staff feel confident with understanding the complexities of supervising and managing risk."
Deborah Hoffman, General Manager, Research and Planning, Cerebral Palsy Alliance