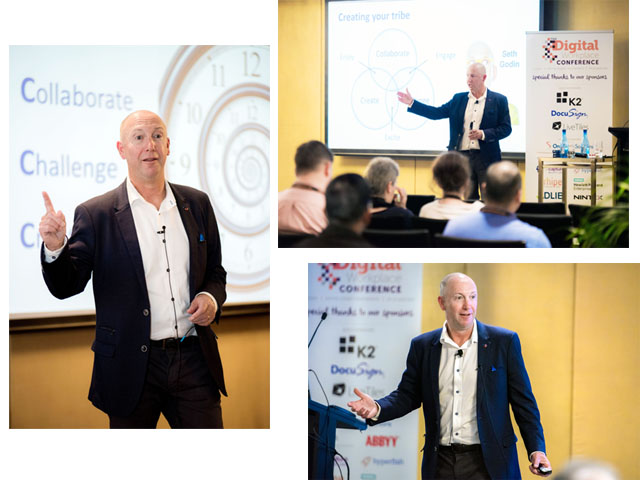 As you know, an external facilitator helps you to:
Get an independence at the front of the room that you cannot bring;
Participate yourself and have your own thinking stimulated on the topic;
Heighten the scale of the challenge given the group may be made up of confident high achievers who are results-focused and will want it better, faster and smarter; and
Handle bad news.  The session may uncover some ugly stuff and you don't necessarily want to be the one drawing it out.
And perhaps you are aware of the benefits of an independent facilitator:
The tools they bring;
Their style for drawing views from everyone in the room; and
Their ability to focus on the purpose of the session and to deliver an outcome that the group will buy into.
"From my very broad range of experience as a facilitator of strategy, risk and creative thinking workshops I have found out that for me to capture the attention, and more importantly the imagination, of the room, the one thing I need to be is 'In service of the room'
To be in service of the room is to be solely focussed on ensuring you and your team are:
                STIMULATED                To think differently and positively
               COMFORTABLE            Speaking out without fear or favour
               FREE                                Of barriers to good decision making"
If you would like to discuss how Bryan will stimulate your team, make them comfortable and free them up so they make really great decisions, please contact Paula at info@bryanwhitefield.com.
---
Project Samples
Private Company with Turnover of $150M
"I drew out their elephant in the room, which was $2M profit lost each year due to a misalignment of objectives from the sales team to the delivery team and finally to the service team."
Government Agency with 15,000 Employees
"My facilitation session concluded with the fact that they were severely underfunded, could not maintain current services levels and that almost all their problems stemmed from their inability to communicate that to the Minister in any meaningful way."
---
Testimonials
"Bryan is a professional and strong facilitator who relates well to staff at all levels. As a regular facilitator for Austrade, he teases out critical issues to ensure that the objectives from each session are consistently achieved to a high level. Bryan's mentoring capabilities have enabled us to progress large projects effectively, after only a few short and sharp sessions – clarifying scope, roles, deliverables and efficient strategies for getting the job done."
David Moore, A/g Group Manager Business Effectiveness, Austrade Canberra
"I have used Bryan Whitefield as an advisor, consultant and facilitator for more than ten years.  The New Zealand Local Authority Protection Programme Disaster Fund has used Bryan's services for more than twenty years.
Bryan's skill as a facilitator is that he keeps the meeting focused, he steers the group to make decisions, and he gets those decisions recorded.  In part this happens because he comes to these meetings having done his homework, but also because he has the rare skill of keeping everyone engaged and finding consensus where many would not be able to do so."
Tim Sole, MBA, ANZIFF (Fellow) CIP FIAA, Civic Assurance
"The Local Authority Protection Programme (LAPP), a charitable trust in New Zealand created to assist member local governments finance the rebuilding of underground assets catastrophically damaged in natural disasters, including playing a major role in assisting councils that suffered immense damage in the Christchurch earthquakes, held a Strategic Planning Meeting on 2nd May 2016.
Bryan Whitefield was engaged to prepare for, plan, manage and facilitate the day.  His preparation was meticulous and the day successful. Bryan demonstrated  a complete understanding of the issues confronting LAPP. His facilitation was first-class and stimulated a high level of participation by creating a relaxed, lively environment.  The meeting finished in a timely manner with all participants satisfied that all opinions had been covered. Bryan's final report was comprehensive, timely and will become an important planning document for the future.
It was a successful exercise significantly enhanced by the expertise and skill of Bryan."
Kinsley Sampson, Local Authority Protection Programme (LAPP)
"Mr Whitefield has been engaged by the Institute to undertake a number of facilitations and development projects. The continued engagement in itself attests to the quality of his work and his well-developed experience in the areas of risk management and business planning. The added advantage has been that as an adjunct he has provided staff with mentoring in the specific areas of expertise. His simplistic approach to mentoring has meant that those officers have developed at a much faster rate than had they been instructed."
Jeff Hobson, Director Corporate Services, AIATSIS
"Bryan facilitated a workshop for our executive team in order to make Risk Management an integral, business as usual activity, as opposed to a standalone activity which is only considered at certain times. Bryan was able to portray Risk, and Risk Management in a number of different ways, which sparked a number of interesting discussions, and resulted in us identifying a number of initiatives which will assist in the our goal of integrating Risk Management into day to day business activities."
Robert Ferris, General Manager, Electrix Pty Ltd
"First Title engaged Risk Management Partners (RMP) to assist in reviewing its Risk Management Framework. This review entailed the important task of facilitation of Risk Management workshops with each division; identification of Risk Champions in each division; the identification and assessment of risk and the development of the risk culture within the organisation. We found RMP's experience and exposure to various risk environments to be of great assistance in achieving our objectives in our review."
Chris Tyler, CEO, First Title
"Bryan Whitefield facilitated a one-day workshop for FM Global on Becoming a Trusted Advisor for our BDMs, Account Managers and Senior Engineers. His knowledge of FM Global was excellent and he challenged our staff to think outside the box and explore different perspectives of our key messages for our customers. Bryan's open and honest approach and articulate presentation made the workshop engaging and our participants will use many of their new skills and knowledge as they build their roles at FM."
Russell Carson, Vice President; Manager Business Development Asia-Pacific Operations, FM Global
"G&S engaged Bryan to facilitate a broad Business Risk session with our Executive Team. Through the addition of Bryan's extensive Risk Management knowledge and his well-tuned facilitation skills our team reviewed and updated our corporate business risk system tools and completed a review of our business risks, current treatment plans and prioritised our residual risk areas. I wouldn't hesitate to utilise Bryan's services again or to recommend his consultancy to other organisations."
Tim Magoffin, General Manager Maintenance & Mining Services, Maintenance & Mining, Mackay, G & S Engineering
"I had the pleasure of attending Bryan Whitefield's Winning Conversation Workshop delivered for Leadership Think Tank recently.   Bryan's style of facilitation was totally engaging and thought provoking.   The Models shared by Bryan at the workshop has really assisted my preparation for meetings and my confidence has grown as a result.   A very valuable, worthwhile workshop.  Thank you so much!"
Catherine Shaw, Founder, Positive Living Skills
"Ronald McDonald House Charities utilised the services of Bryan to develop a comprehensive risk profile for our organisation. The CEO and leadership team were very impressed with Bryan's professional approach and his ability to facilitate a workshop involving people with a wide variety of risk knowledge and resulting in a risk profile that everyone understood and felt that they had contributed to. Bryan ensured that the end result was a relevant and workable document and risk tool for our organisation."
Barbara Ryan, Program Manager, Ronald McDonald House Charities
"I believe you go into this type of workshop with the expectation the facilitator will know their business and deliver in a professional and relevant manner. However the point of difference for me was the follow up which was immediate & extremely helpful."
Deirdre Brown, Executive Officer, Ronald McDonald House Canberra
"The workshop was excellent. For a potentially difficult subject Bryan's style was very informal, relaxed and engaging for all participants. As a team we developed the majority of what we wanted during the workshop leaving only a small amount of homework to finish it off. A great result."
Ross Bingham, CEO, Ronald McDonald House Newcastle, Ronald McDonald House Tamworth
"Bryan Whitefield facilitated a Risk Workshop for the South East Sydney Local Health District on 4 July 2016.  He provided a useful conceptual framework for the workshop and worked closely with members of the board and the executive in its preparation.  During the workshop he was a tactful, firm and constructive presence, steering the discussion into consistently useful channels and hitting upon the right words to crystalise and express the committee's thoughts.  The result was just what was wanted, namely a clear list of the principal risks as the board identified them, with associated justifications.  We were all most satisfied."
Patricia Azarias, Chair, Audit and Risk Committee, South East Sydney Local Health District
"The session was great and I appreciated the way you kept us moving, dealt with things with humour and made sure we stayed on track to get the actions we wanted out of our short time together."
Helen McNeil, Chief Risk Officer, Suncorp NZ
"Bryan Whitefield assisted the executive and the Board of UnityWater to develop a Risk Appetite Statement to help in our decision making and overall governance.  His strong facilitation skills helped to guide everyone towards a common understanding of our risk appetite."
Valerie King, Manager Risk and Assurance, UnityWater
"I thoroughly recommend Risk Management Partners. Bryan quickly brought us up to speed with the key enterprise risk management principals and guided us through the process. His facilitation skills were great and helped us get to the bottom of our business risks as well as identify practical opportunities to improve our business."
Glenn Hoen, CFO, Upstream Print Solutions